Would you like to help improve your child's basketball game, fitness level and over all self-confidence? Sign them up for a few personal training sessions with Marvin Johnson.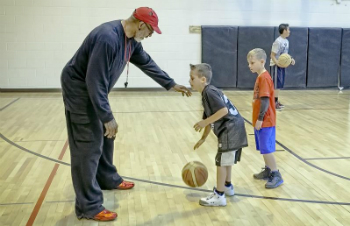 Sports are activities of attrition; but none so pronounced as basketball. Initially millions of young people participate. Yet, If a young person has a desire to play elementary school basketball, the competition is confined to a particular school. That school becomes the "feeder" to a mid-school and the mid-school to the high school. At each level, the pool of players become smaller and more competitive. In football, a team can have as many as 50 players. In basketball, the teams seldom surpass twelve to fifteen players. Yet if a young person has early exposure to basketball and there is more time and opportunity to develop.
Most everyone has passion for the game. That being equal, skill becomes a separator. More so than physical stature. If a player misses an elementary or mid-school cut, tryout opportunities still exist for entry at other levels. As a sophomore, Michael Jordan did not make his high school varsity team; but, he didn't quit, he continued to work and pursue his basketball passion.
Marvin Johnson provides one-on-one and small group personal training to supplement and inspire players passion at all age levels. This training is proven effective in improving a players mentally and physically. Marvin's experience and instruction can be foundational in player's physical and emotional development which are essential to not only basketball, but life itself.
Personal training emphasizes: focus- listening- hard work- smart work within the parameters of a player's ability and potential.
No matter a player's age or skill level, a personal training session will accelerate development and opportunity.
CALL MARVIN NOW TO MAKE AN APPOINTMENT! 505-710-7005
Benefits Received:
Basketball Knowledge and Training

Fitness Skills

Confidence
WE HELP YOU TAKE YOUR GAME TO THE LEVEL!
Individual and Small Group Rates are available.
Type
One Coach/One Player
One Coach /Four Players


Team rate are available call Marvin Johnson for Details

CALL MARVIN JOHNSON AT 505-710-7005, TO SCHEDULE A PERSONAL TRAINING SESSION.